Artist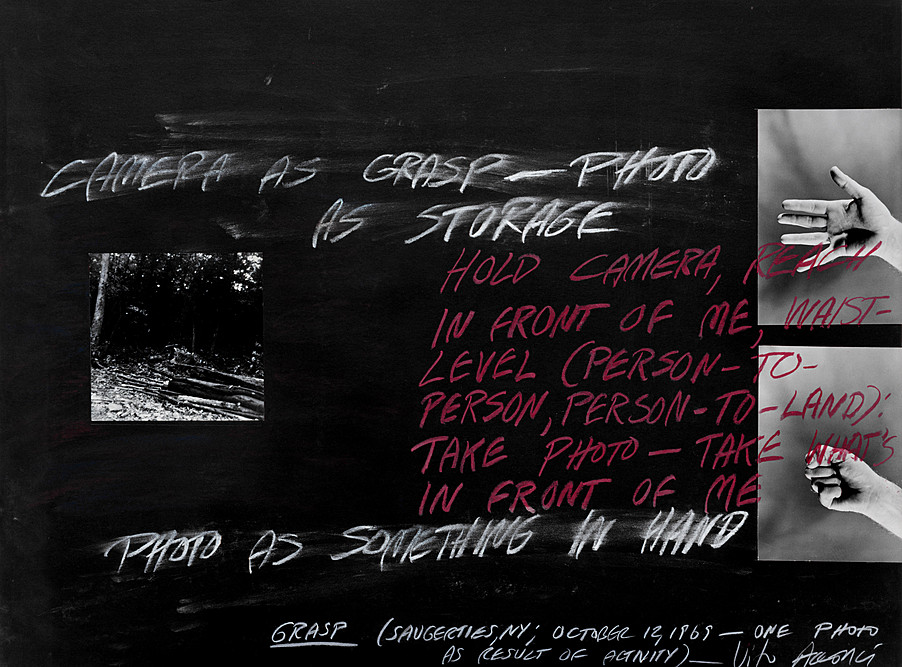 Vito Acconci
Grasp
Artist
Vito Acconci b. 1940, Bronx, NY
Title
Grasp
Date
Medium
Gelatin silver prints, chalk, and crayon on board
Dimensions
30 1/2 x 40 inches (77.5 x 101.6 cm)
Edition
unique
Credit Line
Solomon R. Guggenheim Museum, New York Purchased with funds contributed by the International Director's Council and Executive Committee Members: Eli Broad, Elaine Terner Cooper, Ronnie Heyman, J. Tomilson Hill, Dakis Joannou, Barbara Lane, Robert Mnuchin, Peter Norton, Thomas Walther, and Ginny Williams, 1997
Accession
97.4568
Copyright
Vito Acconci
Artwork Type
Movement
Vito Acconci's career-long exploration of the self has been articulated through poetry, photography, performance, film, video, installation, and architecture. What began as an investigation of the artist's own body in space—how it interacts with a given environment and how, in turn, that location affects it—has evolved into the construction of space itself. This trajectory is inscribed from the private, photographic recording of the body in a designated site to his more recent creation of sites for public engagement. The relationship of the private to the public—and how the self participates in the surrounding world—has been a constant theme in Acconci's art.
In 1969, already a published poet, Acconci made his first visual artworks, moving from the static domain of the printed page to the dynamic space of the empirical world. Combining photographs with texts, the artist documented task-oriented activities—jumping, stretching, bending, etc.—that he performed specifically for the lens. In Grasp (1969), Acconci acknowledges the archival capabilities of photography—"camera as grasp, photo as storage"—but foregrounds the performative act of picture taking, of physically seizing an image. This project announces the dialogue between camera and body that is essential to Acconci's subsequent work, particularly in the series of videos and Super 8 films made between 1969 and 1974 in which he obsessively contemplates his own body as a (gendered) site. These privately filmed performances (which are also documented in photo/text panels) involve a level of corporeal manipulation that borders on masochism—Acconci is shown plucking hairs from around his navel, throwing soapy water into his eyes, and cramming his fist in his mouth. In Conversions II (1971), the second in a trilogy of films interrogating the rigidity of gender binarism, the artist attempts to feminize his unquestionably male body by hiding his genitals between his legs. By casting his own masculinity into question, by performing its absence, Acconci problematizes the dictum that the male (or female) subject is a coherent being.
Acconci's TELE-FURNI-SYSTEM (1997), an installation designed for watching video (his own and those of other artists), invites each visitor to interact with the environment by choosing his or her own viewing positions from a menu of different architectural options. Each monitor serves as a separate video channel and a building block in the network of stairs, benches, and lounges that constitute the piece. Here it is the viewer who activates the space by physically engaging with it and contemplating the panoply of moving images on display.
Nancy Spector