Artist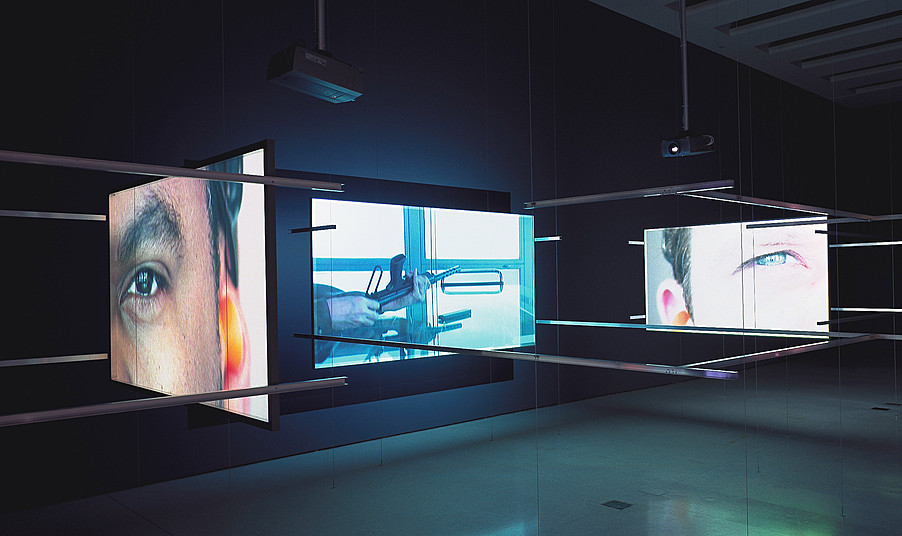 Iñigo Manglano-Ovalle
Climate
Artist
Iñigo Manglano-Ovalle b. 1961, Madrid
Title
Climate
Date
Medium
Three-channel video installation, with sound, 23 min., 35 sec.
Dimensions
dimensions variable
Edition
edition 1/3
Credit Line
Solomon R. Guggenheim Museum, New York Gift, The Bohen Foundation, 2001
Accession
2001.190
Copyright
2000 Iñigo Manglano-Ovalle. Photo: Ellen Labenski, New York
Artwork Type
Iñigo Manglano-Ovalle has created a diverse body of work that comprises installation-based practices, photography, sculpture, and community-based projects. Filtering his subject matter through the lens of modernity, he explores a broad range of issues—such as representation and identity, new technologies, and structures of power—and simultaneously reexamines modernist theories and strategies. Manglano-Ovalle mines the often detached, cool logic of modernism and abstract formalism in order to reach a more expansive and inclusive treatment of social and individual realities. Seemingly neutral and clinical realms of science, such as climatology and genomic mapping, are problematized and engaged as form and content in his work. The assumptions of those fields and their implications in creating or reifying social hierarchies slowly and subtly emerge in the artist's ambitious projects.
The video installation Climate (2000) has a tripartite structure—in both narrative and form—and reflects Manglano-Ovalle's interest in exploring simultaneity. The piece also demonstrates his insistence on drawing viewers in to engage directly, and thus be implicated in, the space of the installation rather than simply interacting as contemplative onlookers. The three separate videos in Climate were filmed in Ludwig Mies van der Rohe's sleekly modernist Lake Shore Drive Apartments (1949–51) in Chicago, and examine the assumptions of International Style architecture within the framework of today's increasingly globalized society. In this work, surveillance technology, assault weapons, and people waiting suggest a chilling world without boundaries in which nature has been dominated by a sterile, detached precision.
The DNA portraits by Manglano-Ovalle engage the formalist arguments of modernist art critic Clement Greenberg and the aesthetics of the Post-painterly abstraction he championed. Manglano-Ovalle's seemingly abstract color print Glenn, Dario, and Tyrone (from The Garden of Delights [1998]), is in fact a photograph of three individuals' DNA samples. For the series, the artist asked sixteen individuals to take part, each selecting two others with whom he or she would like to be represented in a triptych portrait. With this introduction of self-determination, Manglano-Ovalle allowed his participants to create and define their own network of relationships and make choices about the representation of "family."
Manglano-Ovalle's engagement with issues of typology, genealogy, and racial makeup extend beyond the recent issues that DNA technologies have raised, taking in part his inspiration from Hieronymus Bosch's painting The Garden of Earthly Delights (1505–10), and the fantastic grotesqueries that emerged from Bosch's imaginary mixed couplings. Manglano-Ovalle was also interested in these issues as they are represented in Spanish colonial casta (caste) paintings. A taxonomy of the racial mixing of Spaniards, Indians, and Africans, the casta paintings were meant to impose a hierarchy of race and class in a rapidly hybridizing New World. Manglano-Ovalle problematizes issues of representation, objectification, and social control in his contemporary portraits.