Artist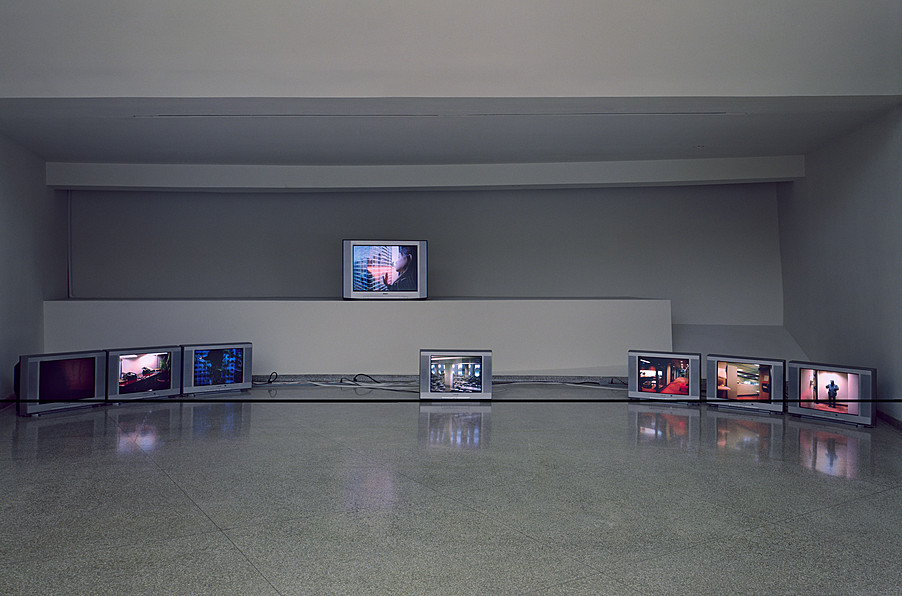 John Pilson
A la claire fontaine
Artist
John Pilson b. 1968, New York
Title
A la claire fontaine
Date
Medium
Eight-channel video installation, with sound, 2 min., 35 sec.
Dimensions
dimensions variable
Edition
edition 3/4
Credit Line
Solomon R. Guggenheim Museum, New York Purchased with funds contributed by the Young Collectors Council, 2001
Accession
2001.73
Copyright
2001 John Pilson
Artwork Type
John Pilson's video and photography work explores corporate space, linking the ordered logic of the grid and line of modernism and Minimalism to the rigid grids and lines of the cityscape and the office. In his sparsely populated scenes, anonymous work spaces appear largely devoid of employees to animate them, which underscores the cold, impersonal nature of the corporate environment. What is ubiquitous is the cubicle; with its false walls and false nods toward privacy and permanence, the disposable architecture seemingly conveys a not-so-subtle message to its potentially disposable occupants. Like filmmakers Charlie Chaplin and Jacques Tati, Pilson conveys an absurdist sense of modern working life, but updates his predecessors' themes with a contemporary sense of alienation from one's white-collar labor. In the multi-channel video installation À la claire fontaine (2000), a young girl achieves fleeting moments of self-expression against the backdrop of a cold, empty, and distant modernist landscape. Pressed up against the glass of a high-rise office, she exhales onto the window and then draws with her finger into the fog, singing to herself "À la claire fontaine," a French song about loss and longing. On a different channel we see this girl perched in a potted tree, looking down onto the cityscape from the height of the towering office building. However, the notion of scale is rendered as absurd as the attempt to naturalize such spaces with the introduction of living plants, uprooted from their natural context.
In yet another channel a frustrated desire for real relationships and rapports turns into an aggressive yet illogical confrontation, as a worker in an office mailroom is pelted with rubber balls. On another monitor we watch blurred legs running rapidly back and forth against a bare office wall. The urgent repetition suggests a yearning for purpose, as meaningful action in these workplace settings seems elusive.
Equally, the workplace's standard indicators fail to convey real meaning. In another scene from À la claire fontaine an electronic stock index runs a seemingly indecipherable code of signs and numbers over a densely jumbled yet empty trading floor. Another shot is fixed on two phones on a credenza; we wait expectantly for them to ring, but they never do. Frustrated expectations for communication abound; the tools are there, but the meanings and messages are lacking. In Pilson's corporate scenes, the work environments are at once spare, slick, and unkempt. Although files, boxes, and storage systems abound, there seems to be little of substance to fill them. Ironically, the spaces in which workers find themselves spending greater and greater percentages of their lives retain nary a trace of their inhabitants.