Artist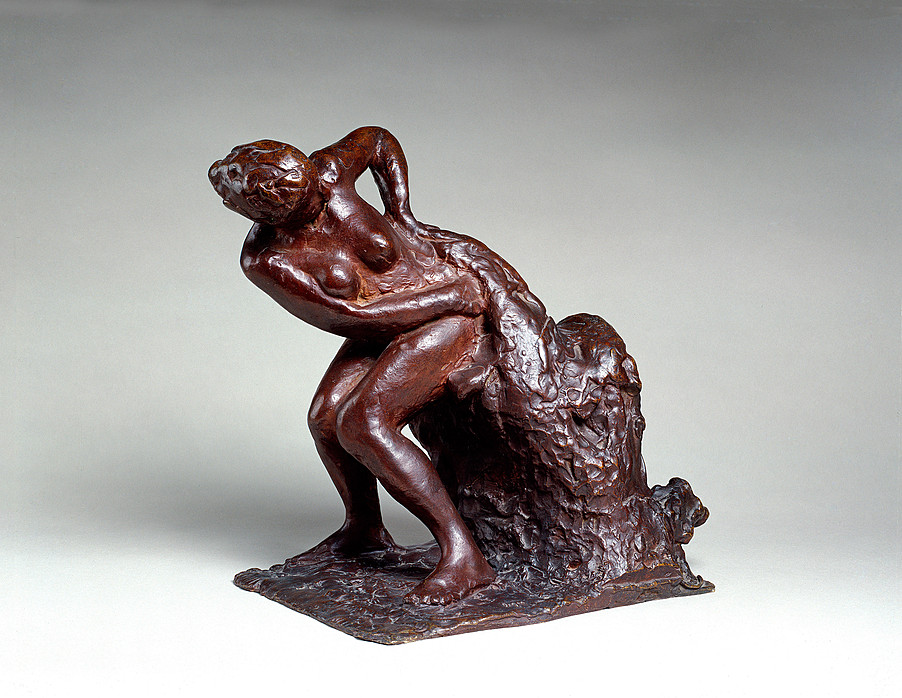 Edgar Degas
Seated Woman, Wiping Her Left Side (Femme assise, s'essuyant le côté gauche)
Artist
Edgar Degas b. 1834, Paris, France; d. 1917, Paris, France
Title
Seated Woman, Wiping Her Left Side (Femme assise, s'essuyant le côté gauche)
Date
1896–1911 (cast posthumously 1919–26)
Medium
Bronze
Dimensions
14 x 14 1/8 x 9 1/4 inches (35.6 x 35.9 x 23.5 cm)
Edition
edition D
Credit Line
Solomon R. Guggenheim Museum, New York Thannhauser Collection, Gift, Justin K. Thannhauser, 1978
Accession
78.2514.10
Movement
Edgar Degas's penetrating and sometimes disturbing depictions of late 19th-century Parisian society are as much innovative explorations of movement and pictorial space as they are portrayals of contemporary life. Degas was from a privileged background, born of a well-to-do family in Paris. After studying law briefly, he turned to art in 1855, attending the École des Beaux-Arts for a time. While he became associated with the Impressionists, Degas belonged to a slightly older generation of artists, which is apparent in the naturalist style of his early portraits and interiors. But, his quintessential works date from the Impressionist decades of the 1870s and 1880s. Like his cohorts, he cast his gaze upon Paris's electrifying society of spectacle, painting scenes of the café-concert, the opera, and the races. He also looked to those living on the fringes of this world: alienated people drinking absinthe, laundresses, milliners, and prostitutes. Perhaps, most recognizable are his ballerinas, seen in dance classes, at rest, rehearsing, and performing.

Degas's formal investigations, however, remained paramount, and his subjects, who often seem caught unaware from unusual angles in awkward poses, are vehicles for these explorations. Blurred action and the dramatic cropping of figures or forms reveal conventions adopted from photography (which he also practiced), signaling the instantaneity that the Impressionists embraced. The cropping, together with his incongruous compositional constructions, was also influenced by the non-illusionistic treatment of space and form of Japanese prints, which had gained popularity in France during the 1860s.

In the mid-1880s, his vision began to fail and the more forgiving medium of pastel became increasingly important to the artist, who fully exploited its soft, blurred contours and coloristic effects. Likewise, the medium of sculpture allowed Degas to use his hands as his eyes in modeling the pliant wax. These sculpted studies of motion parallel contemporaneous examinations of locomotion by photographer Eadweard Muybridge, whose photographs Degas knew. Both Dancers in Green and Yellow and Seated Woman, Wiping Her Left Side date from this period. While each work represents a certain type of exploited lower-class woman—ballerinas often relied upon the patronage of their wealthy, male admirers, while the nude woman washing in a prosaic pose was a prostitute—these works are primarily examples of his lifelong interest in gesture and movement. His deteriorating eyesight eventually forced Degas to cease making art sometime between 1910 and 1912.